We all know that technology is evolving. Hence, saying that the technology decades ago are outdated is an understatement. Let me borrow a quote from Belle of Disney fairy tale Beauty and the Beast, "it's absolutely primeval" aptly describes gadgets older than ten years. Not only are their specifications not up to par with the demands of the times but the graphics and many other exterior features aren't that appealing either.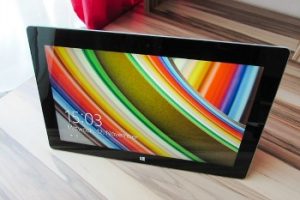 Microsoft has its fair share of struggles in the world of business. They may have made millions developing, manufacturing, licensing, supporting, and selling PC software and other PC-related goods and services to other PC companies but their own foray into selling their own PC line wasn't also well received by the public. They lost hundreds of millions of dollars for all the Surface computers they weren't able to sell, which was made worse by their Nokia acquisition and Windows Mobile that weren't exactly a profitable one. Not even their gaming venture on Xbox is faring well against Sony's PlayStation.
Yet perhaps because it's way behind Apple, Microsoft's hardware division is creating products more daring than much of what has been coming out of its rival lately.

The hybrid Surface Pro — the inheritor of that first Surface's vision, the latest version of which was released in May — hasn't just become a moneymaker for the company. It was also the clear inspiration for the Apple iPad Pro, which supports a pen and keyboard but still feels less like a full-fledged laptop than Surface does.

Late last year, Microsoft also unveiled Surface Studio, a big-screen desktop that bears a passing resemblance to the Apple iMac — except its vertical display effortlessly pivots into a kind of digital drafting table, a slick trick that you can imagine Steve Jobs having lots of fun showing off at a keynote address.

And in the spring, Microsoft showed off Surface Laptop, which sounds humdrum enough; in shape and purpose, it isn't much different from the MacBook Air, Apple's pioneering thin and light laptop. But Microsoft's machine has a better screen than the Air, and, more important, a future. People loved the Air, but Apple doesn't appear to want to upgrade it, so Microsoft stepped in to perfect Apple's baby.
(Via: https://www.nytimes.com/2017/07/26/technology/microsoft-pcs-apple.html)
Like in any other business venture, there are risks involved and it is up to entrepreneurs if they want to take it or not. Not all risks are fruitful. Some can cost you a lot. Microsoft knows it very well after all the money they have lost over the years. However, their persistence and determination seem to be working to their advantage now as their surface computers/laptops are doing better in terms of sales. It seems that Apple is finally facing some major competition after all.
Microsoft (MSFT) is one of the oldest and newest tech companies at the same time. While it benefits from a strong core business model generating cash flow, management has proven its ability to develop other growth vectors. Their most recent success is called Azure, which is No. 2 in public cloud services. Azure has doubled its sales over the past 12 months and is prone for several years of growth. Finally, its strong relationship with corporate America will open the door for additional cross-selling opportunities as the cloud business expands. Microsoft is a buy today, even if the PE ratio is over 27.

Understanding the Business

Founded in 1975 on the promise of offering the best computer operating system with a graphical user interface, Microsoft is now doing business in 190 countries. Its domination in the world of personal computing interface has even earned MSFT a few legal suits for being a monopoly.

However, MSFT has evolved greatly since then and we no longer wait for the next Windows update to see its sales burst. The company now shows a more diverse and balanced business model:

The "More Personal Computing" includes Windows, Surface, and their gaming division. While the world of personal computing is mature, MSFT has found two growth vectors with their tablets (Surface) and games (Xbox).

The "Productivity and Business Process" includes the Office suites, Dynamics products, and cloud services along with their latest important acquisition: LinkedIn. I like what MSFT has done with their Office suites over the years as they offer it under a subscription based program.

Finally, the "Intelligent Cloud" segment includes server products and cloud services (led by the fast-growing Azure) and enterprise services. This is the fastest growing part of MSFT business.
(Via: https://seekingalpha.com/article/4090936-microsoft-old-tech-company-becoming-new-one)
By looking at what Microsoft has achieved so far, you'd realize that the world is really evolving and you can be successful if you learn to adapt to all these changes (albeit not always flawlessly considering the losses the company had to pay for because of certain business risks they took). Many companies have long since gone bankrupt and faded into oblivion because they weren't able to be flexible enough to meet all these changes head on (Remember Nokia and Blackberry). While we all talk about innovation, not all new discoveries are widely received by the public. It just helps now that for Microsoft, touch computing has become fairly normal and their surface laptops and computers experienced a boost in sales because these gadgets are great alternatives for those who don't like or can't afford Apple products.
How Microsoft PCs Turned The Tide In Their Favor was initially seen on UP
source
https://www.unabashedlyprep.com/site/entry/how-microsoft-pcs-turned-the-tide-in-their-favor/