Not only vain individuals spend money on skincare. Even the average Joe understands that taking good care of their skin is a must in a world as polluted as ours today. Whenever you step out of the house, you literally brave all the elements that have become synonymous with modern living. It's even worse if you commute daily because the struggle is definitely real of your daily grind. Now, we all know the skin is the largest organ in the body. It is also our first line of defense against germs and keeps the integrity of our body intact. We get sick when there are breaks and bruises as bacteria and other micro-organisms now have a portal of entry.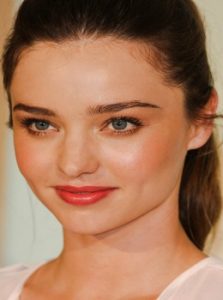 For celebrities, keeping their skin clean and healthy isn't just enough. Their skin has to look fresh and flawless too because it is their ticket to fame and fortune. People won't spend money watching their movies or seeing them in concerts or events if they just look ordinary. Most celebrities have that star quality and charisma that only people who are self-assured and confident in their body and the way they look exudes. Fans and ordinary people don't just admire celebrities, they try to imitate them too by taking care of their skin and staying young looking as they age aside from patronizing the brands they endorse.
"Your skin is a window into your habits and lifestyle," says Joanna Vargas, a celebrity facialist with two eponymous salons in L.A. and New York City. Her clients include such famous faces as Sofia Coppola, Maggie Gyllenhaal, and Debra Messing. But the good news is that you don't have to step into a salon to get an A-list glow.

To achieve a luminous complexion, start by giving yourself an at-home facial by cleansing skin with a foaming wash, which Vargas says does the best job at getting rid of every bit of dirt, makeup, and residue. Then, follow up with these steps for dewy, glowing skin that's red carpet-ready. Stick with this regimen on a weekly basis and you'll see a noticeable difference in your skin in as little as two weeks.

Exfoliate the right way

After you've cleansed skin, the next step is exfoliation. "There are many benefits," says Vargas. "Improved texture and tone, better product absorption, and so on—but make sure the formula is gentle."
(Via: http://www.health.com/beauty/celebrity-skin-care-secrets)
Caring for your skin is actually more complex than just simply washing it with soap and water, which isn't exactly a great way to clean your skin as it can be drying. Celebrities follow a certain skin care regimen or a step-by-step process that often starts with exfoliation. You have to start with a clean base. Wipe off every traces of makeup and exfoliate your face to get rid of old skin cells. That in itself will usually give you clear and fresh-looking face.
Along with good nutrition and proper hydration for healthy, luminous skin, an essential skincare routine is vital. "It's super simple," Phillips says, "always wash your face before bed and always apply your skincare routine, morning and night." And "if you have super crazy irritated skin," Phillips urges you to "run, don't walk, to a dermatologist."

After washing your face, the makeup artist explains that you should, "start with the thinnest thing first and work upwards. Go: oil, then serum, then eye cream, then moisturizer." And once you've gotten your routine down pat, the most important thing to prep skin before a big event is time." Give yourself about two hours, starting in the shower. Do a good scrub and use products that won't strip moisture from your skin. Allow for much more face massage time and always incorporate masks, (liquid or sheet) for face and eyes. Also while you're in the shower, do a body mask. It feels and looks luxurious!"
(Via: https://www.wmagazine.com/story/jennifer-lopez-glowing-skin-makeup-tips)
While generally time-consuming, a celebrity-inspired skincare regimen isn't entirely impossible. You might use up several more products than you are used to but that is a small price to pay to get glowing skin like that of a celebrity. And besides, skincare isn't just for vanity. I guess there is no reason to reiterate further the importance of caring for your skin since it is the first barrier against certain diseases. And I am sure you also want to age gracefully too. You can defy aging just like your fave stars without necessarily undergoing expensive procedures like they do but still spare yourself from the usual horrors that old people face like skin tags, fine lines, wrinkles, and many others.
The post Achieving Beautiful And Flawless Celebrity Skin was initially published to UP
source
https://www.unabashedlyprep.com/site/entry/achieving-beautiful-and-flawless-celebrity-skin/